Get a Free Quote Now
Call 956.618.7233 or fill out the form below.
24/7 Security and Monitoring for Your Business
Keep an eye on your property and easily manage your settings from anywhere.

Access Control
Control who enters your business
property and keep confidential
information secure.

Video Surveillance
See what's happening in real time
on your business property even
when you're away.

Burglary Monitoring
Know right away if criminals try to
target your business and get immediate assistance.

Fire Alarm Systems
The experts at Safeguard can design,
install, and program fire alarms for
all types of hazard situations.
Industries We Serve
Our advanced solutions will help keep your business secure at all times.
Retail and Inventory
Stolen merchandise is a major problem for retailers. We provide the
technology that will help you protect and secure your inventory to
prevent loss and boost your bottom line.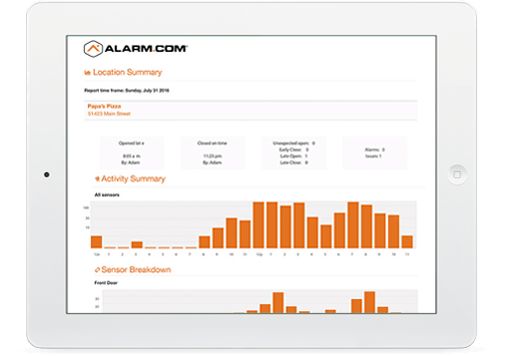 Food and Beverage
We understand the challenges facing the food and beverage
industry, which is why we can help you maintain food safety,
optimize energy usage, and comply with regulatory codes.
Clinical Facilities
Clinical facilities must meet the highest standards for safety and
security. We will help you control access to sensitive information
and supplies to keep your business secure.
Mechanical and Manufacturing
Protect the good reputation of your business by securely controlling
access to high value equipment while meeting and exceeding industry
standards for safety and security.
Office Environments
Keeping people and property safe is a top priority. We can help
make it happen while also reducing operational costs using our
comprehensive business security solutions.
Why Safeguard
We offer the highest quality security systems to keep your business safe. Our team of experts are at the forefront of technology when it
comes to business security. We will provide all the cutting-edge resources you could ever need. Regardless of the size of your business,
we have the expertise required to keep it secure.

Contact Us
Set up an appointment and we'll
help assess your security needs.

Free Quote
Our team will give you with a free quote.

Installation
We will setup your new system.
The Tools You Need to Keep
Your Business Safe
Our customized Safeguard Business Security app gives you complete
control of the security of your business while on-the-go. This intuitive
app allows you to control your business security system with
convenient features such as access control, light control,
temperature control, and more! Now it's easier than ever to
operate your business more efficiently with less concern about
security.
Our Brand Partners
We are delighted to partner with some of the most trusted brands in the industry, including:
Plus, we can order almost any product by request!