Get a Free Quote Now
Call 844.304.3498 or fill out the form below.
Effortless Awareness and Control
Access control gives you total peace of mind by letting you know when someone accesses your property. Always know when your children arrive home safe from school or when an employee enters the building. The possibilities are endless when we design a customized system for you.
Create unique access codes that will allow people to come and go while maintaining the highest level of security. Each code can be customized to work only during assigned times. This is far superior to the old method of sharing a key, which can easily be lost or copied without your knowledge. Our world is keyless now and we make it easy for you to utilize the latest technology while keeping your home secure.
Take Control of Your Property
Keep your home secure with access control while simplifying your life.

Remote Control
Lock or unlock your door from anywhere
using your mobile device.

Managed Access
Set unique codes for anyone who is
authorized to access your property.

Notifications
Get instant notifications to see when
someone locks or unlocks a door.
Connected Locks and Doors
You will find endless uses for the ability to remotely control who has access to your property. Easily control your door locks and garage door while home or away. It's the security you've been dreaming about at your fingertips.
Reduce False Alarms
We can configure your system so that it automatically disarms when a valid code is entered. This is a simple way to control the security of your home while reducing the frequency and hassle associated with false alarms.
Features
We make it easy for you to keep your home secure while on-the-go.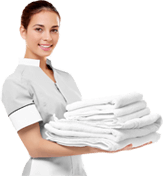 Lock Codes
Create and disable user access codes anytime. There's never a need to change your locks.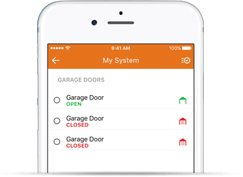 Garage Doors
Protect this key point of entry. Control access and get notifications when the door is left open.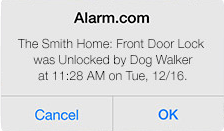 Smart Locks
Connect a smart lock that allows you to easily control who has access to your property.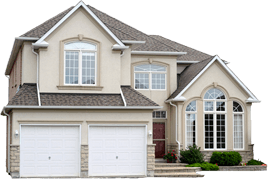 History
See a complete history of property access and review detailed information at any time.