Get a Free Quote Now
Call 844.304.3498 or fill out the form below.
Professionally Monitored Security
Keep your property safe with 24/7 professional monitoring and emergency response. Alarm.com systems are monitored by licensed central monitoring stations across the country, so you can count on help whenever you need it.
Reinforcing the safety of your home is a crucial step toward keeping you and your loved ones safe, especially when you're away. You should choose a home security camera system to help deter crime and provides that extra layer of security for your peace of mind. Safe Guard security camera systems help ensure that when criminals find their way in, our video surveillance can help capture them in the act.
Security Panels
Choose from a variety of panels and take advantage of helpful features.

Crash & Smash™ Protection
Patented technology ensures your
system will work even if the panel is
smashed by intruders.

2-Way Voice
Talk to the emergency dispatcher
directly through the panel.

Extreme Weather Alerts
Using real-time local weather data,
the panel will alert you to dangerous
weather conditions.
Indoor Video Cameras
Maintaining a safe and secure home environment is essential. We provide the highest level of security solutions related to your property. Whether you're home or away, we are always there to provide you with the fastest response monitoring. You will have peace of mind knowing that your home is safe from harm at all times.
Outdoor Video Cameras
Our offer the highest quality security systems to keep your business safe. Our team of experts are at the forefront of technology when it comes to business security. We will provide all the cutting-edge resources you could ever need. Regardless of the size of your business, we have the expertise required to keep it secure.
Features
We make it easy for you to keep your home secure while on-the-go.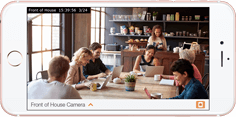 Video Monitoring from Anywhere
HD quality and great lowlight performance make for crystal clear video.
Use your smartphone or tablet to view live streaming video while away from your property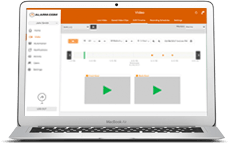 Continuous Recording
Capture 24/7, high-definition, continuous recording with the Stream Video Recorder (SVR). The SVR is bandwidth optimized so it won't slow your internet connection.

Video Alerts
Smarter than stand-alone video, Alarm.com video is connected with your security system, so you can get a video alert when any system activity is detected. See what's happening if the system is disarmed unexpectedly, or if the alarm goes off.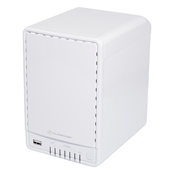 Stream Video Recorder
Tamper-resistant offsite storage, wireless communications, and cloud hosting provide better reliability.
Integrate existing video cameras with your Alarm.com security system.